FACING A CRIMINAL CHARGE? HIRE AN EXPERIENCED DEFENSE ATTORNEY.
I am a criminal defense attorney located in West Haven, Connecticut. For years, I have represented criminal defendants with honesty and compassion. Having grown up in Connecticut, I know the legal landscapes of our state's criminal court system. Your case will be personally handled by my firm and given the care and attention it deserves.
PRINCIPAL ATTORNEY
CHRISTOPHER DEMATTEO
Working as a sports writer before entering law school, I have learned that asking the right questions often leads to success. This personal knowledge has led me to much success in the courtroom across multiple states.
I have earned several accreditations over my years of practice and constantly revive my knowledge on the law as it changes. With my experience in criminal law, I will be able to serve you in all of your legal needs.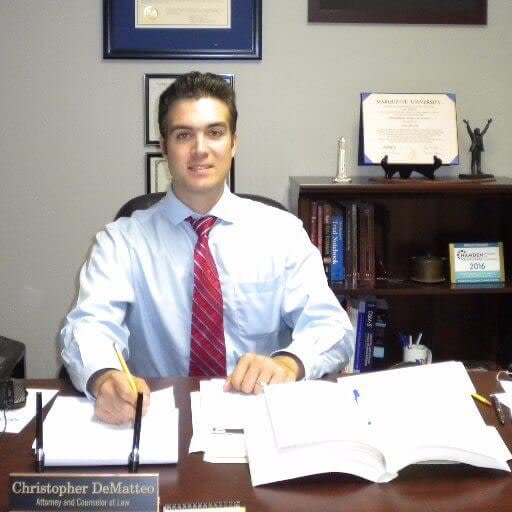 DO YOU NEED A CRIMINAL DEFENSE ATTORNEY?
If you have been charged with a crime, then you definitely do.
As a criminal defense attorney, I can represent you against any drug, violent crime, or burglary charge. Whether you made a mistake or are facing a false accusation, I will give your case the attention it deserves and fiercely fight for you in court.
THE CRIMINAL SENTENCING PROCESS
FELONY CONVICTION

After receiving a felony conviction, there are many possible punishments. The common result is a later-determined amount of time in prison. A felony conviction is serious and can result in more than a year in jail, but I work hard to reduce or eliminate any convictions you may face
MISDEMEANOR CONVICTION

The punishments for a misdemeanor conviction have more variation than punishments for a felony conviction. It is possible to receive anything from jail time to a fine. It is up to the judge to decide the correct course of punishment. With misdemeanors I fight to keep you out of prison entirely.
INFRACTION CONVICTION

An infraction does not result in any jail time. They often result in fines. Those charged with an infraction do not have a right to jury because of the minimal punishment. Often, infractions are traffic tickets or something similar.
HAVE YOU OR A LOVED ONE BEEN CHARGED WITH A CRIME?
FACTS ABOUT DRUG, ASSAULT, AND THEFT CRIMES
In Connecticut, marijuana laws are complicated. Being partially decriminalized means that there is a lot of gray area. This makes drug charges easy to come by. Your life should not be forever affected because of a drug charge. Contact me for more information.
There are many different forms of assault. From first degree assault to domestic violence, the penalties vary with the degree of crime. In an assault case, it is crucial to know exactly what you are being charged with, and a defense lawyer can provide that for you.
Theft crimes include burglary, larceny, robbery, and different forms of trespassing. Whether you were charged with shoplifting or home invasion, I have seen it before and will fight for you. I know your rights and will make sure they are represented in court.
SERVING THE WEST HAVEN COMMUNITY
I have spent the majority of my time as an attorney serving the community where I grew up. If you are in the West Haven, New Haven, or Milford area, contact me today. I will fight to help you or your loved one through the criminal law process and protect your rights.